THE TEN GREATEST IU BASKETBALL PLAYERS SINCE THE LAST CHAMPIONSHIP
Before the most promising NCAA Tournament in the last twenty years begins for Indiana, I thought it would be appropriate to take a look back at all of the great players to wear the Candy Stripes since the Hoosiers last won the National Championship in 1987. However this season turns out in the end, at least three players from this year's team are well deserving of their place in Indiana lore, alongside several other greats who fell short of bringing home the big prize.
*** In order to be eligible for inclusion, at least three seasons of collegiate play were required. Notable players that missed the cut as a result include Jay Edwards, Jared Jeffries and Cody Zeller.
#10: Brian Evans 1992-1996
* All American (3rd Team 1996)
* Big Ten Player of the Year (1996)
* Team Scoring Leader (21.2 in 1996)
* 12th All-Time Indiana Scoring Leader (1701 points)
At 6-8, Evans presented a big time match up problem with his versatile shooting ability. He could light it up from the perimeter or bang it inside, and he was also able to be a strong force on the boards. He was utilized off the bench as a freshmen during the 1993 season that saw the team elevated to the #1 spot in the AP Poll heading into the tourney, but it later years he became the primary scoring threat for the Hoosiers, and holds a spot in the program's all time top ten scorers list.
#10: Damon Bailey 1990-1994
* All American (3rd Team 1994)
* 8th All-Time Indiana Scoring Leader (1741 points)
He was to be the golden boy of Indiana Basketball, a home grown kid with polished fundamentals, but the fact that he never brought the Hoosiers a championship has led some to erroneously conclude that he fell short of expectations. In reality, Bailey averaged double figures in scoring for each of his four seasons in Bloomington, culminating with a team high 19.6 over the 1993-1994 season while he earned a spot on the All-American Team. With Bailey in the backcourt, the Hoosiers advanced to a Final Four, an Elite Eight and two Sweet 16 berths over his four seasons, the only player on this list to have played in a Sweet 16 game in every season of his career. His scoring prowess places him firmly in the top ten of the all-time leaders list. During the regular season, he will probably be most remembered for leading the upset win over then #1 Kentucky in December of 1993 and gracing the cover of Sports Illustrated, the last Hoosier to earn that honor.
#9: Christian Watford 2009-2013
*10th All-Time Indiana Scoring Leader (1730 points)
His legacy will always be the three point shot he hit in December of 2011 to knock off the #1 ranked Kentucky Wildcats while Indiana was still rebuilding and unranked. The impact of that shot will always be immeasurable, but Watford is worthy of this list even outside of that shot. He battled through a 10-21 season as a freshmen to eventually earn a #1 seed as a senior, averaging double figures in scoring each year. His ability to shoot the three at his 6-9 height, especially while trailing on the break, made him a consistent offensive threat and one of the most effective offensive sparks for the Hoosiers' potent scoring assault over his final two years. In his senior season, he shot 49% from beyond the arc, which ranks fourth all time among IU shooters with more than 100 attempts. A true Hoosier, he chose to return for his senior season, arguably hurting his draft stock in the process, but delivering a season to remember for the Hoosier faithful.
#8: A.J. Moye 2000-2004
Moye didn't have the stats or the accolades, but you'd be hard-pressed to find a player that better defined what it means to be an Indiana basketball player. While only in his senior year did he average in double figures for scoring, he did the sorts of things throughout his career that don't show up on the stat sheet- diving for loose balls, keeping plays alive, coming up in the clutch and just demonstrating an overall toughness that made him impossible not to love. He'll always be most remembered for the two free throws he drilled against Duke as a sophomore in the 2002 Regional Semifinal, the first of which was the front end of a one and one (and the Hoosiers needed every bit of both points to hang on for the win). He was the definition of scrappy and clutch, and stuck by the program during some tough years and tournament misses towards the end of his career, without ever giving up and bringing his energy 110% every night.
#7: Alan Henderson 1991-1995
* All-Time leading Indiana Rebounder (1091)
* 7th All-Time Indiana Leading Scorer (1979 points)
* Averaged a Double Double (1994, 17.8 ppg, 10.3 rpg)
* Team Scoring Leader (Leads all players over the era with 1995 season average of 23.5 ppg)
It defies explanation somewhat how a player could average a double-double in the Big Ten one year, lead the conference in scoring the next year, and miss out on being named an All American in both seasons. Doesn't it seem like those types of numbers in a Power Conference in this day in age would make a player a virtual lock for National Player of the Year? However under-appreciated he was, Henderson was an absolute beast, a stretch four who was a threat from deep and a complete terror on the glass. His importance to the 1992 and 1993 teams, even as an underclassman, cannot be understated, as his absence in 1993 prevented virtually any chance that the team had of reaching its full potential. Their season ended at the hands of Kansas in the Regional Final while ranked #1 in the nation. Henderson watched from the bench, unable to play due to a knee injury.
#6: Jordan Hulls 2009-2013
* All-Time Indiana Effective FG Pct Leader (564.5/936, 60.3%) (439/936, 251/562 3 pt)
* 3rd All-Time Indiana 3 Point Shot Leader (254)
* Consecutive Free Throws Made, Indiana and Big Ten Record Holder (58, 2011-2012)
The undisputed best shooter of this era (post-Alford), Hulls was also the full embodiment of the prototypical Indiana player. As an under-recruited Mr. Basketball from Indiana, Hulls made up for his lack of athleticism and size with hard work, mental toughness and consistency. Since the last National Championship, only Greg Graham in 1993 has posted a more impressive three point shooting campaign than Hulls did in 2012 (49.6%) and his performance in 2013 (46.4%) was nothing to ignore either.  The fact that he owns the all-time leading effective field goal percentage record for the program is a testament to his consistency and potency, especially when isolated and set. Hulls also holds the record for consecutive free throws made, as he once knocked down an astounding 58 in a row over the course of two seasons. While often a liability on defense because of his size, it was not uncommon to see him stepping in to take a charge or coming up with a loose ball rebound.
#5: DJ White 2004-2008
* All American (2nd Team 2008)
* Big Ten Player of the Year (2008)
* Averaged a Double Double (2008, 17.5 ppg, 10.8 rpg)
* 18th All-Time Indiana Scoring Leader (1447)
It is important to remember that to get D.J. White to come to Indiana out of an Alabama high school was a complete and utter heist by Mike Davis. Unfortunately, recruiting out of the South to come to a Midwest school wasn't a sustainable strategy for Davis, and his inability to recruit inside the state led to his eventual downfall, but D.J. White was indeed a special one. While talented players like Robert Vaden followed Davis to UAB, White was always committed to his University before the coach that recruited him there, and stuck around during the Sampson transition to produce two spectacular seasons, the final of which remains the last Big Ten Player of the Year award given to a Hoosier to date. He averaged a double double over the 2007-2008 season, the last Hoosier to accomplish that feat as well. I will always view the ending of his career as a tragedy, as the young man gave so much to the program and demonstrated such loyalty during such turmoil over his four seasons in Bloomington, that for it to end in a cloud of smoke with such a talented team in his senior season as the Sampson allegations hit just seemed so incredibly unfair. He will always be one of the IU greats nevertheless, and has continued to be a strong supporter of the program in the aftermath.
#4: Yogi Ferrell 2012-2016
* All American (3rd Team 2016)
* All Big Ten 1st Team (2015, 2016)
* All-Time Leading Indiana Assists Leader (633)
* 2nd All-Time Indiana 3 Point Shot Leader (274)
* 6th All-Time Leading Indiana Scorer (1986 points)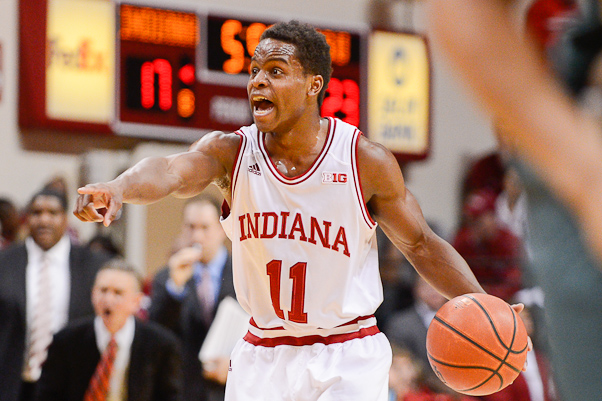 Arguably the last true point guard that the Hoosiers have had and easily the most dominant since the last championship, Yogi was simply a joy to watch as a floor leader. He ran the point in both his freshman and senior seasons while leading the Hoosiers to Big Ten Conference titles outright as well as Sweet 16 appearances. A four year player, Ferrell's career numbers put him in the pantheon of elite Indiana Basketball players, leading the program in all-time assists and just 9 perimeter buckets short of being its all-time three point leader- quite the combination of assets.
#3: A.J. Guyton 1996-2000
* All American (1st Team 2000)
* Big Ten Player of the Year (2000)
* 4th All-Time Leading Indiana Scorer (2100 points)
* All-Time Indiana 3 Point Shot Leader (283)
Guyton was as dominant a scorer as Indiana has had over this time period, and the numbers speak for themselves. While he never had a season of higher than 45% from the three point line, he shot accurately enough to hold the all-time record from beyond the arc, and his all-time scoring numbers rest within the top five for the program. He is one of only three IU players on this list to earn a spot as a 1st Team All-American. Amazingly, Guyton never played in a Sweet 16 game, as towards the end of the Knight era the team was plagued by early tournament exits. During his senior season, he came to the adamant defense of Coach Knight as the Neil Reed choking allegations hit, and shook off the outside distractions to deliver the most spectacular season of his career, scoring 19.7 ppg and earning Big Ten Player of the Year honors as well.
#2: Victor Oladipo 2010-2013
* All American (1st Team 2013)
* National Player of the Year (2013, TSN)
What made Oladipo so special is that his spectacular 2013 campaign seemed to come literally from out of nowhere. His athleticism had always been there, but something happened to him between the 2012 and 2013 seasons and he was able to combine his hyper-athleticism with rock solid fundamentals. The result was an unprecedented improvement from a limited role player to the single most exciting and tenacious basketball player in all the land in the year 2013. Oladipo shot over 60% from the floor including close to 50% from behind the arc, a vast improvement from prior seasons, and was named Big Ten Defensive Player of the Year after averaging 2.2 steals and 6.2 rebounds per game. In addition to his uncanny ability to have an effect on every play on both sides of the ball, Oladipo was the most explosive, confident player at the rim that I can ever remember watching as a Hoosier, and combined his abilities with a humble, happy-go-lucky off the court persona that only added to his intrigue. As one of only two National Player of the Year winners over this time span, his placement near the top of this list is a no-brainer.
#1: Calbert Cheaney 1989-1993
* 3-Time All American (1st Team 1993, 3rd Team 1992, 3rd Team 1991)
* National Player of the Year (1993- TSN, AP, Naismith, Wooden)
* Big Ten Player of the Year (1993)
* All-Time Indiana and Big Ten Scoring Leader (2613 points)
* 3-Time Team Scoring Leader (22.4 in 1993, 17.5 in 1992, 22.2 in 1991)
Cheaney was the anchor on what was arguably the best group of recruits to come through the program over this era. His consistent dominance throughout his career is without peer; while he is the only player on this list to be named an All-American more than once, he actually accomplished the feat in three consecutive seasons. Over his career, his 55.9% field goal percentage is remarkable considering how many of his shots consisted of long jump shots. His 1993 Hoosiers remain the only team over this era to finish the season ranked #1 in the AP Poll, and his value to that team goes without saying, as he was named National Player of the Year. As the All-Time Scoring Leader not only for the Indiana program but for the Big Ten Conference as well, placing anyone else atop this list defies credibility. Cheaney gets an added bonus for sticking by the program during tough times and for his commitment to this year and future teams as the Head of Basketball Operations. I think I speak for every one of us Hoosier fans when I say that it is great to have Calbert back sitting on the bench these days.
HONORABLE MENTION:
Greg Graham 1989-1993
* 2nd Best 3 Point Shooting Season ever for an Indiana Player (1993, 57-111 for 51.4%)
* 14th All-Time Indiana Scoring Leader (1590)
Kirk Haston 1998-2001
* All American (3rd Team 2001)
* 22nd All-Time Indiana Scoring Leader (1406)
Marshall Strickland 2002-2006
* 5th Best 3 Point Shooting Season ever for an Indiana Player (2006, 69-144 for 48%)
* Best Free Throw Percentage ever for an Indiana Player not named Steve Alford or Jordan Hulls (2006, 89%)
Eric Anderson 1988-1992
* 11th All-Time Indiana Scoring Leader (1715)
Tom Coverdale 1999-2003
* 4th All-Time Indiana 3 Point Shot Leader (200)
Explore posts in the same categories:
Sports